Great news for all SkyMed fans out there! After the huge success of the first season, the team behind SkyMed is getting ready to release SkyMed Season 2. Yep, you heard it right! We know you've been waiting eagerly, and we're pretty sure it's going to be worth the wait.
Remember how we got to meet those brave pilots and medics flying life-saving missions in the remote corners of Northern Canada? Well, buckle up because we're going back for more adventures and even bigger challenges.
So stick around and keep reading this article for all the juicy details about the new season of SkyMed. We've got all the inside scoop you've been waiting for!
SkyMed Season 2 Release Date
In March 2023, Paramount+, CBC, and Piazza Entertainment announced that the high-stakes medical drama series is coming with its new season. Yes, we are talking about SkyMed Season 2. According to a resource, it was confirmed that the new series is shooting in the heart of Ontario and Manitoba.
It is indeed great exciting news for all of its fans as they were anticipatingly waiting for its next session. The release date of the New Season has not been announced yet. Fans are now counting the days to get news about its release date.
SkyMed Season 2 Cast and Characters
Skymed Season 2 has the following cate and characters as per the information provided by the production house of this series. Let's see which of the actors are now going to appear in its new season.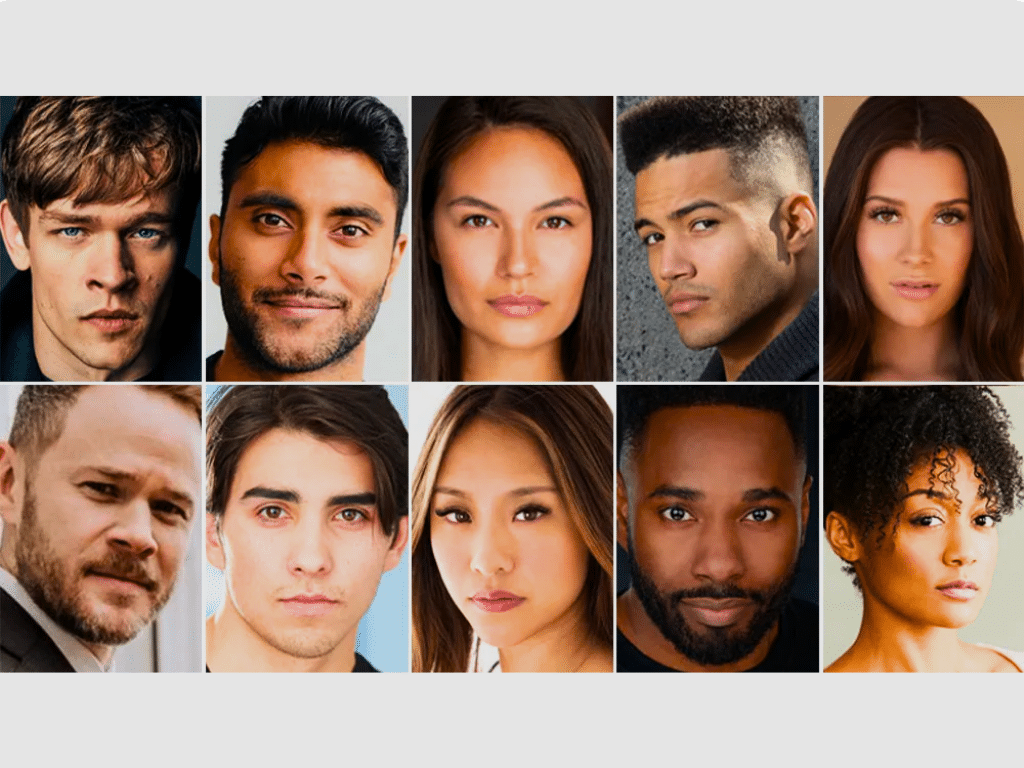 Natasha Calis as Nurse Hayley Roberts

 Praneet Akilla as Jay Chopper

Mercedes Morris as Lexi Martine

Kheon Clarke as Tristan Green

Braeden Clarke as Jeremy Wood

Morgan Holmstrom as Crystal Highway

Aason Nadjiwan as Captain 

Austen Bodie as Golden Boy Pilot
Sky Med Season 2 Trailor is on Air or Not?
We have received many queries related to the fans asking about its trailer. For all those who are looking for SkyMed Season 2, we suggest they hold down their hearts as its trailer is about to release soon. But right now, we have yet to confirm when it will be released.
Anyone who wants to watch the trailer of Skymed Season 2 can go to the official pages of the production house of this series and also can stalk profiles of their caste for the latest updates about Skymed Season 2.
SkyMed Season 1- Recap
Sky Med Season 1, which made its debut on July 10, 2022, comprised nine thrilling episodes. Created by Julie Puckrin, the inspiration for the series came from her sister and brother-in-law's experience as air ambulance pilots.
The executive producers for the show are Puckrin, Gillian Hormel, and Vanessa Piazza, with production being handled by Piazza Entertainment in partnership with CBC and CBS Studios. Set in the remote skies of Northern Canada, the series weaves a compelling narrative around young medics and pilots flying air ambulances, grappling with matters of life, death, and intense drama.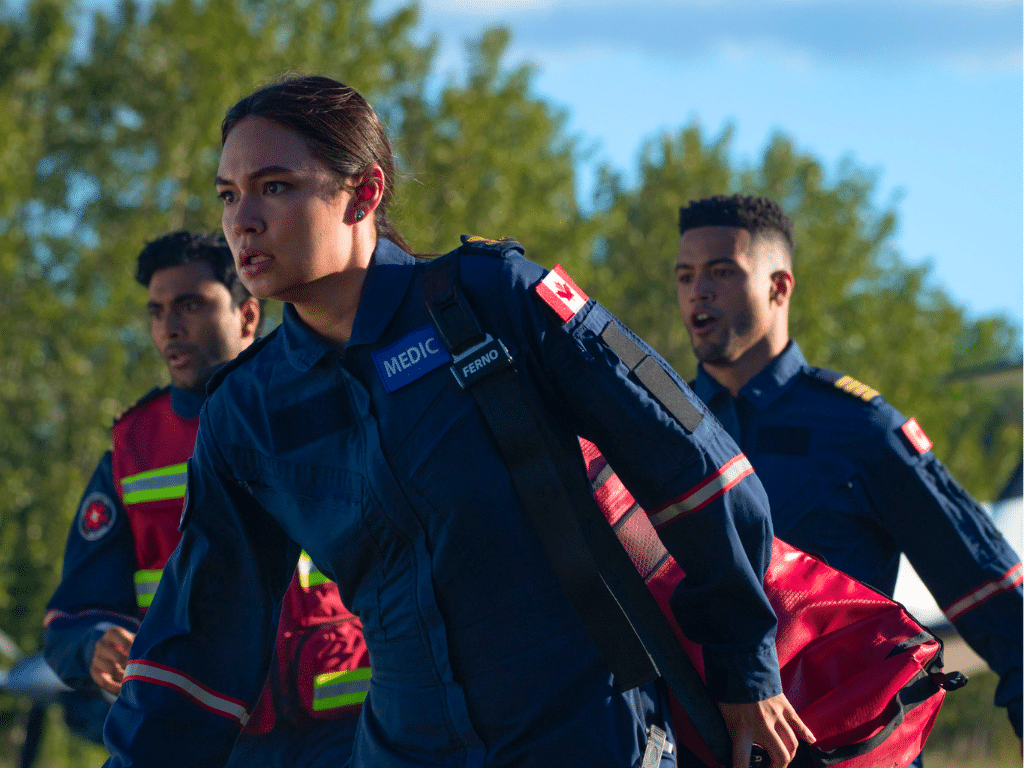 The cast includes Natasha Calis as Nurse Hayley Roberts, Aason (Ace) Nadjiwon portraying the golden boy pilot Captain Austen Bodie, Morgan Holmstrom as the no-nonsense Nurse Crystal Highway, and Praneet Akilla as First Officer Chopper.
Additionally, Thomas Elms plays the role of icy-cool pilot Captain Nowak, with Mercedes Morris as First Officer Lexi Martine and Kheon Clarke as Nurse Tristan Green. The remarkable acting skills of the entire cast contributed to making the series a great success, as each episode was filled with unexpected twists and thrills.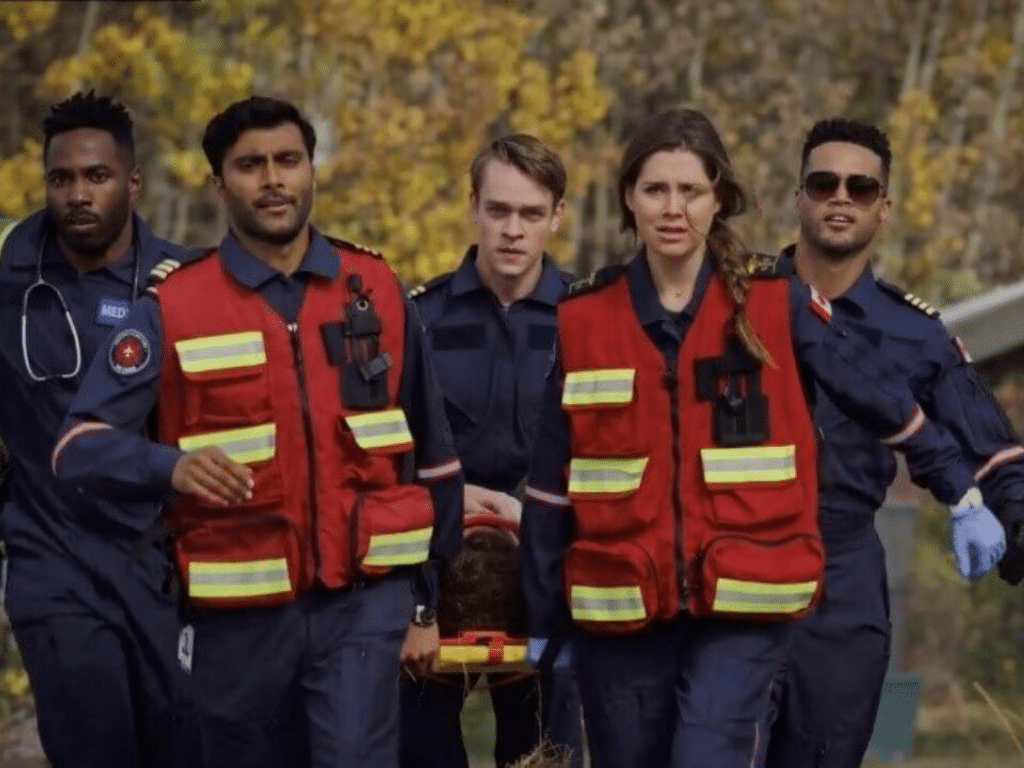 Overall, Skymed is a gripping Canadian series revolving around an air ambulance crew who face arduous challenges to aid the injured. The team, comprising practitioners, nurses, and pilots, works in unison to provide immediate first aid and help to those in need. Their compelling story brought a unique perspective and excitement to the viewers.
Sky Med Season 2 – Spoilers
The much-anticipated Season 2 of SkyMed teases potential romances, breakups, and emotional moments as the air ambulance service widens its operations. Fan Pages of SkyMed predict that the upcoming season will thrust the crew into profound crises that will affect their work and personal lives.
Some are also predicting that Sydney Kuhne may rejoin the series as the fiery flight medic Stef, Ryan Ali as the appealing young pilot Reese, and Nadine Whiteman-Roden in the role of Dr. Yana Noah. 
Braeden Clarke will continue his recurring role as Crystal's fluctuating love interest, the charming Jeremy Wood. Returning to the series is Aaron Ashmore as Wheezer, the wise and witty 'big brother' who everyone looks to for guidance.
But all of these are only the rough estimations of the fans of this thrilling series. We are not confirmed which prediction will be true or not. So stay tuned for its new season to find out how season 2 of SkyMed rocks the floor.
Wrapping Up
We've done our best to give you all the juicy details about SkyMed Season 2 right here. We hope you found it as exciting as we did share it! 
For more updates, remember to check back regularly on our website. And, of course, get ready to hold onto your seats for the upcoming season of this incredible medical drama series. It's going to be a thrilling ride!
Frequently Asked Questions
1- How many seasons of SkyMed have been released?
SkyMed has only one season, which was released in August 2023. Its season 2 has been announced but has just been released.
2- What is the theme of the SkyMed Series?
The Skymed series revolves around the hardships of a Canadian air ambulance face in the way of their profession. The series highlights life, drama, and everything in between this by showing the perseverance and dedication of crew members.
3- How many episodes are in Skymed Season 2?
SkyMed Season 2 is not released now, but as we all know, that sky med has nine episodes. It is probably more likely that the new season will also have nine episodes.
4- What are the leading characters in Skymed?
The main cast includes Natasha Calis, Aason (Ace) Nadjiwon, Morgan Holmstrom, Praneet Akilla, Thomas Elms, Mercedes Morris, and Kheon Clarke. All of these are working combined as a team of air ambulances in the series.