Sometimes, it happens that while applying hair dye some drops fall on your clothes. Always remember that hair color stains are hard but impossible to remove. In that situation first, you need to calm down and then go to Google and search how to remove hair color from clothes.
It doesn't require any expensive products or tools all you need is a little patience and the right method. In this article, we have discussed the reliable methods of removing hair tint stains from clothes but for that, you have to read it till the end so let's get started.
1. Rinse With Cold Water
We all know that hair tints are a little viscous and sticky. While applying dye if a drop suddenly falls on your clothes then what you have to do is
Hold the dyed area and instantly put it under the cold running water and rinse it thoroughly.
If you still see the goop then take a card and scrap it.
This method will prove to be very effective if the marks are not very old, but if it is late then you should try the next method of removing hair color
2. Rubbing Alcohol
Another helpful method of removing stains of hair color from clothes is the use of rubbing alcohol. But it is only possible if it is in your home for household purposes.
Take a little amount of rubbing alcohol in a bowl according to the size of the stain.
Dip your stained cloth in it for a while.
With the help of a paper towel dry it.
Pour more rubbing alcohol into it and let the stained part of the cloth soak overnight.
Take it out from the rubbing alcohol and rinse it with water.
Now put it in the washing machine for a wash but make sure that before it goes on the dryer mode the hair color stain vanishes completely. Because once you dry your clothes the dry will make the stain hard to lose and you will not able to get the hair color stain out.
3. Treat With Liquid Detergent
Using liquid detergent is also very good for removing tough stains like hair dye stains. It contains special stain-lifting enzymes that will remove the stain without damaging the cloth.
Put an adequate amount of liquid detergent on the stained area.
With the help of a clean white cloth or with a brush with soft bristles(optional) gently scrub it.
Let it set for 15 to 20 minutes and wash it with cold water.
4. Using Oxygen Based Bleach
Oxygen-based bleach is also known as chlorine-free bleach which helps in whitening and brightening the cloth without any damage.
Take a bowl and put the oxygen-based bleach in it according to the directions mentioned on the package.
Soak your cloth in the liquid for at least eight hours overnight.
Rinse thoroughly with cold water.
5. Using Chlorine Bleach
Chlorine bleach is used for white clothes only. Remember that if the chlorine bleach didn't remove the stain then nothing else can remove it also.
Take one gallon of water and add one-fourth cup of bleach to it.
Soak your stained cloth for only 15 minutes in the water
Take out the cloth and rinse it with cold water and do the laundry as usual if the stain is gone.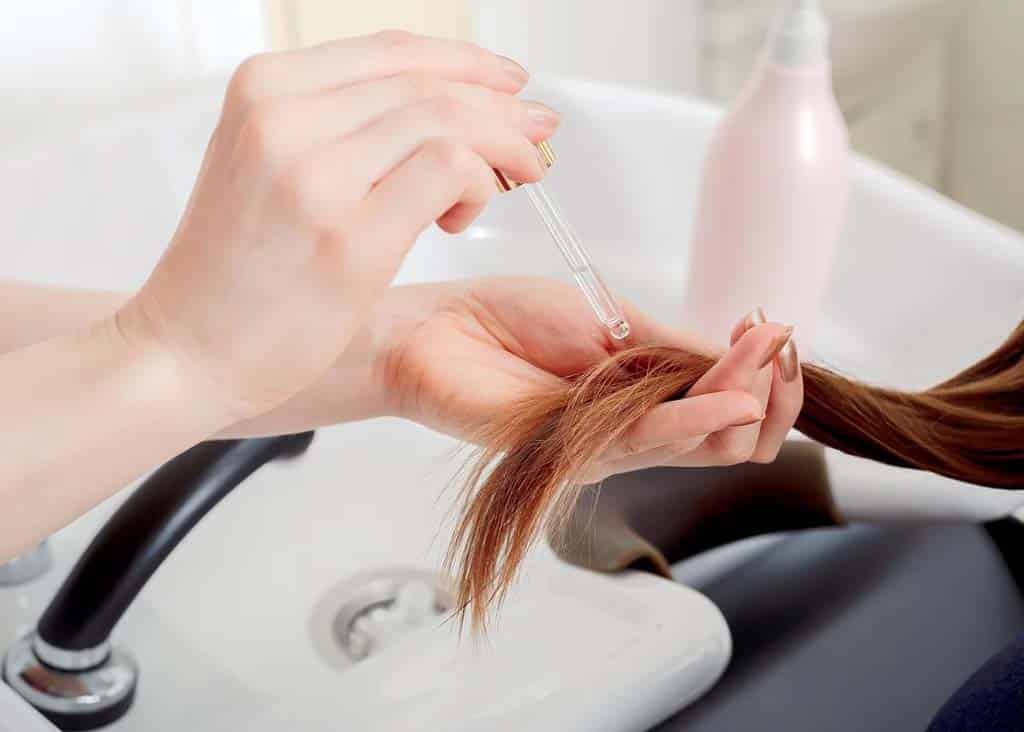 6. Nail Polish Remover
Another cheap and simple way of removing hair tint stains is using nail polish remover. It is an inexpensive way of removing stains from clothes without damaging the cloth.
Take nail polish remover in the bowl and dip the stained part of the cloth in it.
Make sure that the stained part is soaked overnight.
Take out the cloth and do the laundry.
If there is still a stain left on the cloth then repeat the process and do the laundry.
7. Using Hydrogen Peroxide
If you are looking for the safest way of getting rid of the hair tint stain never forget to use hydrogen peroxide. It is the safest way as it will not damage your garment or leave a smell behind.
Pour a decent amount of hydrogen peroxide into the bowl and dip the stained part of the garment in it.
Ringing out the excess hydrogen peroxide from the garment and rinse it with tap water.
Do the laundry as usual. You will see that there is no stain left on the cloth.
8. Using Dish Washing Liquid and Ammonia Solution
Dishwashing liquid and ammonia are the two components that are used for removing stains from clothes whether they are meat-based, fruit-based, or vegetable-based dishwashing liquid and ammonia will completely vanish the stain
Take a bowl and take one quart of water, ½ teaspoon of dishwashing liquid add one teaspoon of ammonia in it.
Let your garment soak for 15 minutes and then rinse it with cold water.
9. Using White Vinegar and Water Solution
Never miss trying this method for the removal of hair color stains.
According to the size of the stain of the cloth take half amount of water and half amount of vinegar in a bowl.
For example, take half a liter of water and half a liter of vinegar in a bowl.
Soak for at least 30 minutes in the solution and wring it.
Do laundry as usual but before drying makes sure that the stain vanished completely.
If the stain is gone completely then you can dry it without any worry but if the stain is not gone then you must try another method for removing hair-dry stains.
10. Using Baking Soda Paste
Using baking soda in a paste form is another useful method as it has lightning properties that help to remove hair tint stains from clothes. Stains can affect the beauty of the attire but don't worry on the internet you can find a bundle of cheap and easy remedies to get rid form the tough and nasty stains from the clothes.
Take a dish put baking soda with the help of a spoon
Add enough lemon juice to form an acidic paste.
Apply it on the garment for a while and wash it with water.
11. Using Hair Sprays
You will not believe but the hair spray is also a very effective way of removing tough stains like hair color. Hair sprays are alcohol-based that's why it is helpful.
Flatten your dyed part of the cloth on a hard place like a shelf and remove wrinkles.
Spray on the stains by making sure that the stain is wet completely.
Soaked it in the water with dish wash liquid mixed in it for at least 20 minutes.
Take out the clothe and do the laundry.
Winding Up
We all like beautiful attires as they help to boost our confidence and help us to look alluring but if we get a stain on them then they will not look beautiful as they used to be.
If we talk about tough stains like hair dyes then they are dark in color but now with help of the internet, you can find dozen of tips to remove hair color stains from clothes. With the help of these methods, the stain will come out and you will not be able to tell where it was.
FAQs
Can vinegar effectively eliminate stains caused by hair dye?
3 Approaches While vinegar is commonly used as a scalp cleanser, it can also be a hair dye remover. However, exercise caution if your desired outcome is different. If it is, you can combine white vinegar with warm water, apply it to your hair, and let it rest for ten to fifteen minutes before rinsing it out.
Can shampoo effectively eliminate hair dye?
5 Methods to Remove & Strip Hair Dye | Milk + Blush While shampoos may not entirely remove the color from your hair, they can significantly assist in fading it, making it easier to conceal. Using an anti-dandruff or clarifying shampoo will gradually lift the hair dye and make it disappear without causing any harm.
Is oil capable of removing hair dye?
Hot oil is a beneficial and natural method if you desire to fade your hair color while simultaneously conditioning it. Here are the steps: Select your preferred oil (almond, coconut, or olive oil) and gently warm it. Apply this warm oil evenly to your roots and tips by massaging it into your hair.